Since the Intermountain Indian School, better known as the Brigham City Indian School closed it's doors on May 17th, 1984 rumors quickly spread about it's supposed haunted past.  As urban legends are apt to do the longer the buildings sat empty, the bigger and more fanciful the legend grew.
The buildings quickly took on a life of their own and every paranormal team and ghost chaser had it on the top of their list of places to investigate.  Like the Old Mill and Pioneer Village in Lagoon, this was one place that was always kept off limits.  The only people that got in there did so illegally.  So what is the truth behind the old school?
Before the site was the Intermountain Indian School, it was Bushnell General Army Hospital.
Construction began in May 1942 and it officially accepted it's first patient, James Davis, on 10 Oct 1943.  At the time, Bushnell was the 5th largest military hospital in the world, with the capacity to hold 2000 patients.  It specialized in amputations (treatment & rehab), treatment of malaria, neurology / neurosurgery, and psychology.  It was one of the first places to experiment with the use of penicillin, plastic prosthetics,  and had state of the art x-ray capabilities.
In the four years that it was a functioning hospital, over 13,000 patients were treated. I've combed through every single death certificate in Box Elder County from 1942-1946 and found that 93 people died there, or were brought there immediately after their death.  Most of those that perished here died due to disease or injuries that occurred during combat. A very small percentage committed suicide. Overall, the death rate for the hospital was less than 1%.  This truly was an amazing facility, with state of the art treatments available to treat very difficult maladies.
Foreign POWs and celebrities….
Bushnell was also home to quite a few POWs.  Both German and Italian Prisoners of War were kept here and performed a variety of jobs at the hospital.  The ones who died while being held at Bushnell were buried at Fort Douglas in Salt Lake City.Because the hospital was so prominent, it also attracted a lot of attention from celebrities and other well-known people.  Just a few of the famous people who visited the hospital were: Helen Keller, Harry S Truman (prior to becoming president), Nat King Cole (who performed for the patients in the psychiatric ward), Clark Gable, Bob Hope, Shirley Temple, and many others.  Bob Hope and Bing Crosby actually put together a fundraising concert in Salt Lake City to raise money for a golf course at Bushnell, but unfortunately, the hospital was closed before the golf course became a reality.
After the war, Bushnell fell out of favor with the Army…
This was mainly due to it being "classified as semi-permanent because it was constructed with wooden floors and frames. It is not located in a densely populated area and if the total army hospital load decreases as anticipated, its retention would require diversion of patients from other hospitals located in the proximity of their homes. In addition to a few other specialties, the hospital has been employed as an amputation center. However, the majority of army amputees are rapidly approaching the point where they will have received maximum hospitalization and will be ready to return to civilian life."  By June of 1946 the Army declared the hospital as surplus and by July of 1949 control of the property was transferred to the Department of the Interior.By 1950, the buildings had undergone a $3 million renovation and the Intermountain Indian School was formed.  At first, the school only had 542 students, but it quickly reached it's capacity of 2,150 students, often being over capacity by 150 or so.  The children would live at the school for a good part of the year, but would return home during the summer.  It functioned as a typical high school but also had vocational training in a variety of skills.  All the articles and papers I've read while studying these buildings had nothing but good things to say about the school. From all accounts, it was very successful in that it had a high graduation rate.  Other than a minor riot in 1975 which resulted in 3 police officers being injured, I could find no traumatic events or deaths at the location while it was a school.
The Brigham City Indian School was in use until 1984 when it closed and the buildings sat abandoned until 2013.  Shortly after writing this article all buildings that had not been converted for other uses were demolished.  I was given the opportunity to walk through the buildings and was amazed by how intact they were, although a lot of the buildings were falling apart.
Urban legends and spooky stories….
In the 29 years that the buildings sat empty urban legends and stories about paranormal activity began to spread. While it would not surprise me if the Brigham City Indian School was haunted because of it being a hospital in the past, I don't believe that should be what the location is remembered for. The truth is that this was an amazing historical site that was incredibly important to not only Brigham City and Utah but to the entire country during WWII and during its use as a school.
This is my favorite then / now picture.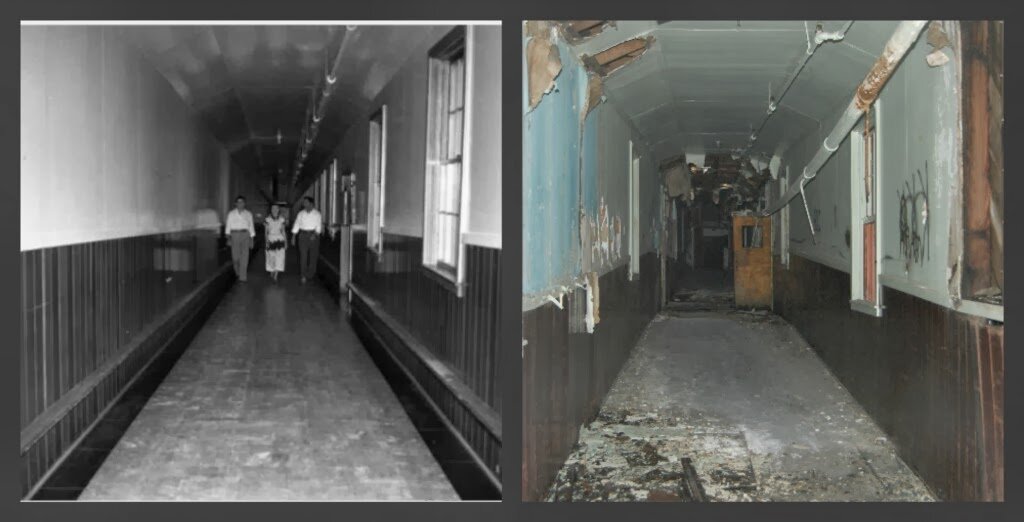 Update: 5/22/2016 I've added a bunch of pictures I took before they tore the buildings down. Enjoy!