Sounds like everyone's worst nightmare, right? Unfortunately for a 13-year-old boy living in San Francisco in 1854, it was reality. On the evening of January 10, 1854, there was a "small Spanish theatrical representation on Stockton street." A boy named William Snyder (or Bernard as the papers refer to him) was peddling candy and peanuts.
For whatever reason, Manuel Reys who was described as being a "mentally defected" circus clown grabbed William by the heels and swung him around several times. By the time he was done, blood was flowing from William's mouth. He was taken to the hospital where he later died. A coroner's inquest was held and the cause of death was determined to be a "rupture of the left pulmonary artery." The cause of death was found to be accidental.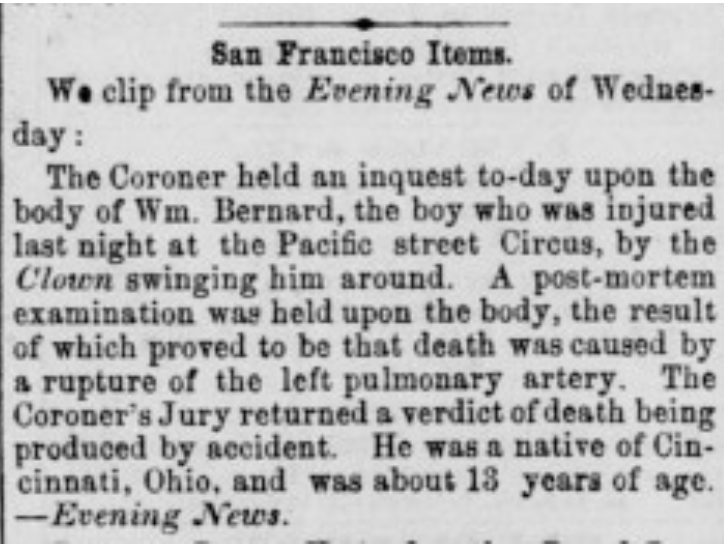 William was buried in the Yerba Buena cemetery the following day on January 11th, 1854. Manuel Reys was arrested for murder and his case was sent to the Grand Jury. It doesn't appear that anything came of it. However, Reys would later be sent to prison in 1858 on a charge of assault and battery upon a police officer. During his court hearing he "commenced slapping his face as if a swarm of mosquitos were pestering him" and muttering broken sentences under his breath. The charging officer swore that Reys was known to have committed at least two murders previously. I have to wonder if William's death was included in that number.
Visiting William's grave is also impossible because the cemetery in which he was buried is now the site of the Asian Art Museum and Public Library. In 1870 some of the bodies were moved to the Golden Gate Cemetery, so he may have been reinterred there but it's unknown. Also, it was apparently common practice for people to steal body parts from the Yerba Buena cemetery to make soap because many of the bodies were found to have turned into adipocere otherwise known as grave wax.
Sources:
Daily Alta California, Volume 10, Number 336, 7 December 1858